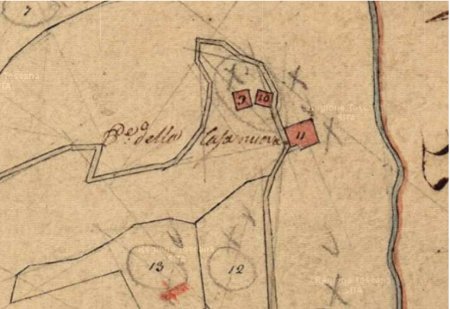 Centuries of history are reflected in the authentic 16th century Chianti estate Poderi Val Verde of 190 acres. The five stone houses were built over a period of more than 400 years, repeatedly expanded as need for more space arose.
In ancient times houses were built along the old trails which often followed a chain of natural springs. Some of those trails date back as far as Roman times. Most likely this is also the reason why the main estate "Tenuta di Ricavo " and this hamlet was built here, along with a few monasteries close by. Most of these monasteries have long been converted into private homes. Hiking the surrounding gravel roads, one may still find remains of chapels and other buildings.
These roads were also called "donkey trails", since transportation of most goods was done using these animals. Even the precious salt from far away Sicily was transported on these trails, all the way up to the Alps.
Most likely the first house, now named "Casa Acacia", was built 400 to 450 years ago as a stable and barn for sheep and goats that grazed in this valley a long way from the original estate. As was tradition, workers used the local quarry stones as building materials. These stones were extracted from the woodlands as it was cleared to prepare land for vineyards and olive groves. The outside walls of "Casa Acacia" reflect this mingle of stones very clearly.
Then followed "Casa Pineta", already built with more sophisticated stones taken from caves. The house was intended as living quarters for tenants and farm worker families on the first floor, while the ground floor was used as storage and for cheese and wine making.
In the years to come, these activities were moved to the newer structure of "Casa Patronale", named for its use as a summer residence for the owners. Once "Casa Acacia" and "Casa Pineta" stood as separate buildings, but in years to come , the space between them was enclosed, creating more living space for the workers. Together, the two buildings became the unusual, but harmonious, long unit it is today.
Over the centuries as more people came to live here and the property changed owners, it became an independent and self-supporting farm. Thus more houses were built: "Casa Capannina", which housed the cows, "Il Fienile" became home to pigs and horses and a garage. "Casa Campana" was used as a granary, the old threshing space still exists. The youngest of the houses "Casa Patronale" was built around 1900, and clearly shows a different building style than the much older houses. Up until the 1950s, it also housed a wine cellar, cheese making facilities and a workshop.
As of this time the farm was considered a hamlet getting its own postal address "Località Casanova di Ricavo", which means "The New House of Ricavo". This hamlet was "newer" than the close by main estate "Tenuta di Ricavo" by about 100 years! Between the years 1930 and 1937, emigrating Jewish people from all over Europe where instructed here by the local farmers in cultivating the land, learning techniques in planting vineyards and olive groves, fortifying wells and building houses.
The old bread oven, as well as the vaults leading to the storage rooms, still show obvious signs of their work. Following a year of training they continue the journey to their future homes in Palestine. Twice did we have the pleasure of welcoming descendants of these people, wanting to see the place their parents told them about many times.
Due to bad working conditions in the "Mezzadria", in the years following World War II, farmers, tenants and farm workers started to leave their leased farms to work in the up-raising industrial towns such as nearby Poggibonsi.
Since land owners had then nobody to manage their country properties, many of the farms, estates and houses were neglected. They started to go to ruin and the uncultivated land went back to being wild forest, as the macchia took over.
Because of this and also because of financial reasons, land owners began to sell their properties to foreigners, which used them as summer residence or retirement homes The first to come were Dutch, English and Swiss, then followed by the Germans. Thanks to them, houses were lovingly restored, land was brought back to its original use and Tuscany, especially the Chianti Classico, became again a paradise.
This property shared the same fate as many other properties in this region, going from hand to hand, being divided by marriage contracts, falling into disrepair, and then being purchased by foreigners. At one point, it was even owned by the Gucci family for a few years. In the beginning of the 1960s, a Swiss dentist bought the farm and started its revival.
Though they did a lot of beautiful restoring, he unfortunately allowed his tenant family to keep a large free-roaming herd of sheep and goats. Over the years they destroyed the vineyards and the olive grove, and broke down the ancient stone terraces. You can see the few remaining terraces when you hike around the property. In 1997, the property was bought by the present owner, a German, who restored and modernized it, and turned it into a rental property and small working farm. She named it 'Poderi Val Verde' - meaning farmhouses in the green valley.
Proof of the long history can be found in the typical hand cut oak beam holding the cotto ceilings, old stone vaults, the original cotto floors, narrow doors and small windows left intentionally untouched in most houses.
The huge original doors of the winery in "Casa Patronale", made from local cypress wood have found a new function as tables for our various dining activities. "Casa Pineta" still has the old fireplace that people used to literally sit in to warm themselves, the original sandstone sink, plus many more little signs that we shall gladly point out to you. The spectacular old loft ceiling in "Casa Acacia" still shows its use as hayloft. Stair and door sills of local grey sandstone show obvious signs of wear – indications that thousands of feet left crossing over them the last few hundreds of years.
During the renovation we tried our best to preserve the authentic atmosphere of this typical Chianti country estate. We successfully combined rustic flair with modern appliances and comfort. Over the years, we have collected local antique furniture and objects, in a style called 'arte povera', which we incorporated into the modern furniture in all accommodations. All rooms are hand-painted in the typical warm colors of a Tuscan country homes: shades of yellow, orange, lilac and green, enhanced by using colorful bed and bath linen. Beams of some accommodations are white-washed, keeping with the old Tuscan tradition.